Last updated 09 January 2017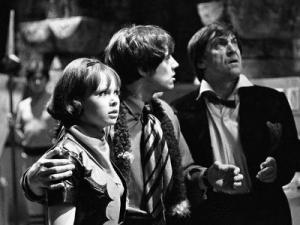 Broadcast: Sunday 2nd November 1986
11:00pm CST
(05:00 GMT)
<
>
«
»

<
>
«
»
WTTW 11 Chicago
Featuring: Dr. Who, Frazer Hines, Wendy Padbury
The TARDIS lands on the planet of the Gonds, a primitive and enslaved people. Every year, two of the finest Gond students are sent to be 'companions' of the mysterious and unseen Krotons. But the Doctor reveals that only death awaits them.
Synopsis Source: Doctor Who Guide
Intro: Krotons are not little things you throw in your split pea soup. They are mysterious, unseen, and ruthless, and they need a very smart individual to help them out of a long-time predicament. Enter The Doctor.
Outro: Next week, the T-Mat breaks down and The Doctor goes to the moon. And that's only the beginning as you shall learn when you join us next Sunday night at 11 for part one of "The Seeds of Death." [source: ChicagoEpguides]
Broadcast Source: BroaDWcast