Last updated 09 January 2017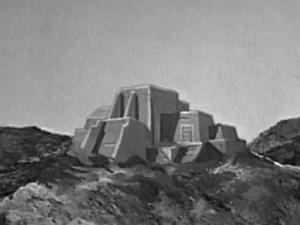 Broadcast: Sunday 26th October 1986
11:00pm CST
(05:00 GMT)
<
>
«
»

<
>
«
»
WTTW 11 Chicago
Featuring: Patrick Troughton, Frazer Hines, Wendy Padbury, Ronald Allen, Arthur Cox, Kenneth Ives
The TARDIS lands on the peaceful planet of Dulkis. There, the Doctor, Jamie and Zoe discover that the ruthless Dominators have arrived and are enslaving the inhabitants with their deadly robots, the Quarks.
The Doctor and his crew must prevent the destruction of the planet and help the Dulcians fight back.
Synopsis Source: Doctor Who Guide
---
Broadcast notes:
Intro: The Dominators need fuel for their space fleet and they've got their sights set on a very good-sized self service station. The landlords don't like the idea, but they're pacifists, unable to fight back. Enter The Doctor to confront "The Dominators."
Outro: Next week, the Doctor, Zoe and Jamie travel to the planet of The Gonds, a primitive people in the power of an unseen race and their teaching machines. Join us next Sunday evening at 11 and meet "The Krotons." [source: ChicagoEpguides]
ChicagoEpguides reported that WTTW decided to show The Mind Robber before The Dominators as they felt it was a better introduction to Patrick Troughton.
Broadcast Source: BroaDWcast