Last updated 09 January 2017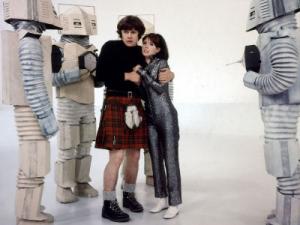 Broadcast: Sunday 19th October 1986
11:00pm CDT
(04:00 GMT)
<
>
«
»

<
>
«
»
WTTW 11 Chicago
Featuring: Patrick Troughton, Frazer Hines, Wendy Padbury, Emrys Jones
The Doctor activates an emergency unit on board the TARDIS to escape destruction by a volcanic eruption.
Unfortunately, it moves them out of normal space and time to a deadly world where fantasy rules. The travelers find themselves lured out of the ship into a ghostly white void.
Synopsis Source: Doctor Who Guide
---
Broadcast notes:
Intro: Tonight, the Second Doctor uses a special emergency unit to save the TARDIS and its crew and move out of reality itself. This is no fairy tale as we will learn when we meet "The Mind Robber."
Outro: Next week, destination: Dulkis, a planet enslaved by an alien culture, aptly named "The Dominators," and their deadly robot slaves, the Quarks. Be with us next Sunday night at 11. [source: ChicagoEpguides]Sunday
ChicagoEpguides reported that WTTW decided to show The Mind Robber before The Dominators as they felt it was a better introduction to Patrick Troughton.
Broadcast Source: BroaDWcast