Last updated 09 January 2017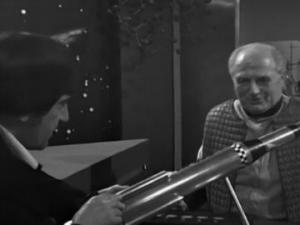 Broadcast: Sunday 9th November 1986
11:00pm CST
(05:00 GMT)
<
>
«
»

<
>
«
»
WTTW 11 Chicago
Featuring: Patrick Troughton, Frazer Hines, Wendy Padbury, Ronald Leigh-Hunt, Louise Pajo, Philip Ray, Terry Scully
The TARDIS arrives on 21st Century Earth where all long distance journeys are made instantaneously by T-Mat. But aliens have invaded the T-Mat relay station on the Moon, and they're about to cause havoc...
Synopsis Source: Doctor Who Guide
---
Broadcast notes:
Intro: In the twenty-first century everything on Earth moves by T-Mat. It's a great system as long as it works. If someone or something ices the system the implications are terrifying, as we shall learn in part one of "The Seeds of Death."
Outro: And what do you suppose is inside the bursting pods? Kiwi fruit? Rutabaga? Vichyssoise? We'll learn the sordid truth next Sunday night at 11 in the conclusion of "The Seeds of Death." [source: ChicagoEpguides]
Broadcast Source: BroaDWcast