Last updated 02 January 2017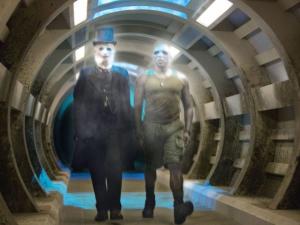 Visit Broadcast Link
Broadcast: Saturday 3rd October 2015
8:25pm-9:10pm BST
(19:25 GMT)
<
>
«
»

<
>
«
»
(actually broadcast at 20:26:50)
BBC One
Featuring: Peter Capaldi, Jenna Coleman, Morven Christie, Zaqi Ismail, Paul Kaye, Sophie Stone
The Doctor and Clara step in to defend the terrified crew of an underwater base when it comes under attack - but what is the nature of the dark forces that lie behind the threat?
Synopsis Source: Radio Times
Broadcast Source: BBC
Ratings Information:
Initial figures:
3.738m viewers (overnight), 16.3% audience share, 5th place day
Consolidated figures:
5.626m viewers (+7 days), 22.0% audience share, 22nd place - BARB Week Top 10 (channel), AI 84
Additional figures:
6.097m viewers (+28 days)
Overnights: Doctor Who once more suffered by being placed directly opposite live Rugby, where this week, England V Australia was watched by an average of 8.04 million, to top the overnight figures for Saturday.BBC One's top programme was Strictly Come Dancing, with 7.92 million watching. Casualty, which was directly after Doctor Who, had 3.77 million, just edging above The Doctor, although the positions are likely to be reversed when consolidated figures are released next week.
Finals (+7 days): The rating makes Doctor Who the 22nd most watched programme for the week on all UK television. It was the 10th most watched programme on BBC Television.Doctor Who ended higher than Casualty, which beat it in the initial overnight figures, and was the third most watched show on Saturday Night. The Great British Bake Off topped the chart with a massive 12.65 million watching. The most popular Saturday night show was Strictly Come Dancing with 9.27 million viewers.
BARB Reports
BARB Live: 2.987m; Timeshift+7: 2.639m (total 5.626m); Timeshift+28: 3.110m (total 6.097m)
[first week breakdown: 3.738m(Sat), 4.751m(Sun), 5.023m(Mon), 5.194m(Tue), 5.355m(Wed)]
BARB Player Report (beta):
w/e 4 Oct: Weekly - 184,621[8th] (iOS 53,693[15th], web 130,927[5th]; 4 Weeks - same figures[41st] (iOS unlisted, web[24th])
w/e 11 Oct: Weekly - 154,104[15th] (iOS 43,874[34th], web 110,230[9th]); 4 Weeks - 338,712[13th] (iOS unlisted, web 241,145[10th]
w/e 18 Oct: 4 Weeks - 377,327[12th] (iOS 108,534[44th], web 268,793[7th])
w/e 25 Oct: 4 Weeks - 394,243[8th] (iOS 112,475[40th], web 281,768[6th])
w/e 1 Nov: 4 Weeks - 218,542[36th] (iOS unlisted, web 158,516[13th])
BBC Reports
The
BBC's iPlayer performance figures
reported that the episode was requested 1.407m times to the end of the month, making it the seventh most requested programme in October - it was beaten by episodes of
Doctor Foster
,
The Great British Bakeoff
and
The Apprentice
(the figure does not include requests via Virgin Media or Sky).