Last updated 02 January 2017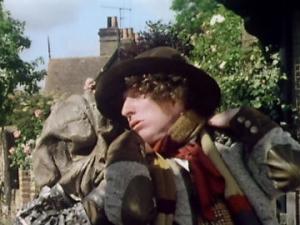 Broadcast: Thursday 1st February 2001
5:00am-6:00am EST
(10:00 GMT)
<
>
«
»
BBC America
(adverts during broadcast)
Featuring: Tom Baker, Ian Marter, Elisabeth Sladen, Martin Friend, Milton Johns
The Kraals intend to invade Earth by stowing away aboard Crayford's rocket as it returns home. The Doctor learns Styggron's plan is to wipe out all life on the planet.
Synopsis Source: Doctor Who Guide
Broadcast Source: TWIDW
Report from the This Week in Doctor Who Archive:
Friday 26th January 2001:
BBC America
http://www.bbcamerica.com/
Mon-Thu 8AM EST (5AM PST); reruns following weekday 5AM EST (2AM PST) - 2 episodes daily edited to movie format
Mon/Tue Genesis of the Daleks movie, pt 3 of 3
The Thals prepare to attack the Dalek bunker in revenge for being slaughtered during their victory party. Let this be a lesson - rudeness doesn't pay.
Tue-Wed/Wed-Thu The Android Invasion movie, pts 1 - 2 of 2
See
UKTV
for details.
Thu/Fri The Robots of Death movie, pt 1 of 2
The ghost of Agatha Christie dances through a deadly art deco story. The operators of a sand miner are killed off one by one.