Last updated 02 January 2017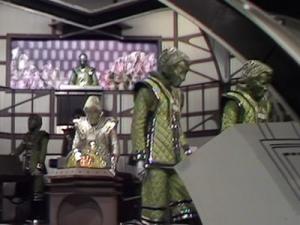 Broadcast: Thursday 1st February 2001
8:00am-9:00am EST
(13:00 GMT)
<
>
«
»
BBC America
(adverts during broadcast)
Featuring: Tom Baker, Louise Jameson, David Collings, Russell Hunter, Pamela Salem
The TARDIS takes the Doctor and Leela to a huge sandminer on an alien world. One of the crew is killed and the murderer may not be human.
Synopsis Source: Doctor Who Guide
Broadcast Source: TWIDW
Report from the This Week in Doctor Who Archive:
Friday 26th January 2001:
BBC America
http://www.bbcamerica.com/
Mon-Thu 8AM EST (5AM PST); reruns following weekday 5AM EST (2AM PST) - 2 episodes daily edited to movie format
Mon/Tue Genesis of the Daleks movie, pt 3 of 3
The Thals prepare to attack the Dalek bunker in revenge for being slaughtered during their victory party. Let this be a lesson - rudeness doesn't pay.
Tue-Wed/Wed-Thu The Android Invasion movie, pts 1 - 2 of 2
See
UKTV
for details.
Thu/Fri The Robots of Death movie, pt 1 of 2
The ghost of Agatha Christie dances through a deadly art deco story. The operators of a sand miner are killed off one by one.