Last updated 02 January 2017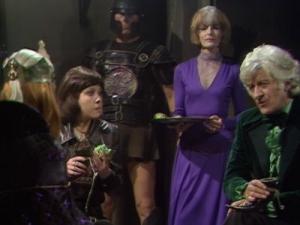 Broadcast: Saturday 29th January 2000
11:55pm-12:20am EST
(04:55 GMT)
<
>
«
»
WCET
Featuring: Jon Pertwee, Elisabeth Sladen, Frank Gatliff, Donald Gee, Rex Robinson, Nina Thomas, Ralph Watson
Desperate to avoid a revolt from the miners,the Doctor attempts to expose the fraud of Aggedor's ghost. Alpha Centauri has summoned Federation troops, but whose side are they on?
Synopsis Source: Doctor Who Guide
Broadcast Source: TWIDW
Report from the This Week in Doctor Who Archive:
Friday 28th January 2000:
WCET 48 Cincinnati, OH
http://www.wcet.org/
Sat 11:30PM EST The Monster of Peladon eps 2+3 of 6
As relations between the Pels and the aristocracy continue to deteriorate, Alpha-Centauri makes a decision. An incredibly bad decision that could result in everyone's death, but it's not like Alpha gets worked up enough to do this sort of thing every decade.