Last updated 02 January 2017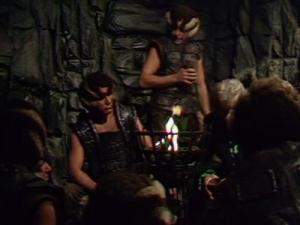 Broadcast: Saturday 29th January 2000
11:30pm-11:55pm EST
(04:30 GMT)
<
>
«
»
WCET
Featuring: Jon Pertwee, Elisabeth Sladen, Frank Gatliff, Donald Gee, Rex Robinson, Nina Thomas, Ralph Watson
Chancellor Ortron accuses the Doctor and Sarah of being in league with the rebel miners and sentences them to be punished by Aggedor himself.
Synopsis Source: Doctor Who Guide
Broadcast Source: TWIDW
Report from the This Week in Doctor Who Archive:
Friday 28th January 2000:
WCET 48 Cincinnati, OH
http://www.wcet.org/
Sat 11:30PM EST The Monster of Peladon eps 2+3 of 6
As relations between the Pels and the aristocracy continue to deteriorate, Alpha-Centauri makes a decision. An incredibly bad decision that could result in everyone's death, but it's not like Alpha gets worked up enough to do this sort of thing every decade.