Last updated 02 January 2017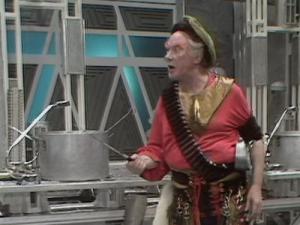 Broadcast: Saturday 18th November 2000
11:30pm-1:45am EST
(04:30 GMT)
<
>
«
»
MPT Maryland
Featuring: Colin Baker, Patrick Troughton, Nicola Bryant, Frazer Hines, Laurence Payne, Jacqueline Pearce, James Saxon, John Stratton
The Second Doctor and Jamie visit space station Camera to speak to the scientist Dastari, but the station has a saboteur aboard - Chessene is working with the Sontarans...
Synopsis Source: Doctor Who Guide
Broadcast Source: TWIDW
Report from the This Week in Doctor Who Archive:
Friday 17th November 2000:
MPT Maryland
22,28,31,36,62,67
http://www.mpt.org/
Sat 11:30PM EST The Two Doctors 2 hrs, 15 min movie
The story that should air before this one -
Mark Of The Rani
- airs next week, due to an error 15 years ago when the stories were first distributed in America. The 2nd Doctor and Jamie's mission to stop a series of dangerous time experiments is interrupted by an attack on a space station. Ripples from this event alert the 6th Doctor, who rushes to find out whether he survived the battle. Viewer advisory - the TV listings indicate this story will be 2 hours or 2 hours, 5 minutes long. They are mistaken. As I understand it, that is another error from 1985 which has never been fixed.