Last updated 02 January 2017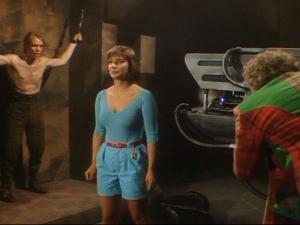 Broadcast: Saturday 11th November 2000
11:30pm-1:00am EST
(04:30 GMT)
<
>
«
»
MPT Maryland
Featuring: Colin Baker, Nicola Bryant, Forbes Collins, Jason Connery, Martin Jarvis, Nabil Shaban
Needing Zeiton 7 ore urgently for the TARDIS, the Doctor takes Peri to Varos. They quickly become part of the sadistic programming that entertains the populace.
Synopsis Source: Doctor Who Guide
Broadcast Source: TWIDW
Report from the This Week in Doctor Who Archive:
Friday 10th November 2000:
MPT Maryland
22,28,31,36,62,67
http://www.mpt.org/
Sat 11:30PM EST Vengeance on Varos movie
A TARDIS breakdown forces the 6th Doctor and Peri to land on the nearest planet with Zeiton-7 ore. Alas, it is a planet with a barbaric prison system, where executions are televised entertainment. There is a very effective cliffhanger half-way through the story which you probably won't be able to spot in the movie version. But if you want to try, pay attention about 44 minutes in where the Governor says "cut". Create the mental image of the closing credits starting right there, and see what you think.