Last updated 02 January 2017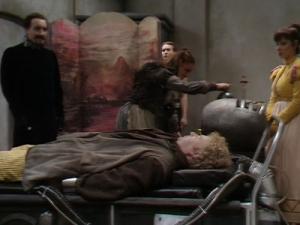 Broadcast: Saturday 25th November 2000
11:30pm-1:00am EST
(04:30 GMT)
<
>
«
»
MPT Maryland
Featuring: Colin Baker, Nicola Bryant, Anthony Ainley, Terence Alexander, Kate O'Mara
People cannot sleep in the town of Killingworth and the Doctor realises it is the work of a renegade Time Lord, the Rani, who has teamed up with the Master to cause chaos
Synopsis Source: Doctor Who Guide
Broadcast Source: TWIDW
Report from the This Week in Doctor Who Archive:
Wednesday 22nd November 2000:
MPT Maryland
22,28,31,36,62,67
http://www.mpt.org/
Sat 11:30PM EST MarkOfTheRani 90 min movie
Time approximate from pledge drives. The TARDIS is misdirected to an English village where 19th Century inventors intend to have a conference. But something is turning the local mine workers violent, endangering the course of the Industrial Revolution. The 6th Doctor and Peri have to deal with two conflicting evils at once - one they know all too well, the other making her first appearance in the series.