Last updated 02 January 2017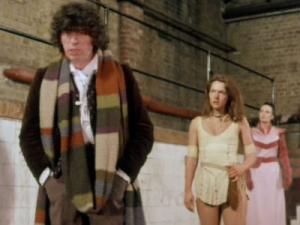 Broadcast: Sunday 30th January 2000
2:05am-2:30am EST
(07:05 GMT)
«
»
MPT Maryland
Featuring: Tom Baker, Louise Jameson, John Leeson, John Arnatt, Christopher Tranchell
Stor, the Sontaran leader, finally gains access to the TARDIS in search of the Great Key of Rassilon and a dangerous game of hide and seek begins inside the Doctor's ship.
Synopsis Source: Doctor Who Guide
Broadcast Source: TWIDW
Report from the This Week in Doctor Who Archive:
Friday 28th January 2000:
MPT Maryland
22, 28, 31, 36, 62, 67
http://www.mpt.org/
Late Sat Mid EST The Invasion of Time all 6 eps
This is the saga of the Time Lord who had the shortest ever term as President of his species. A Presidency mired in scandal, conspiracy, and alien invasions. Will absolute power corrupt the Doctor absolutely?