Last updated 02 January 2017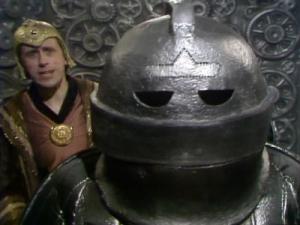 Broadcast: Sunday 30th January 2000
1:40am-2:05am EST
(06:40 GMT)
«
»
MPT Maryland
Featuring: Tom Baker, Louise Jameson, John Arnatt, Christopher Tranchell
The Sontarans have taken control of the Capital on Gallifrey and intend to use the power of the Time Lords to rampage through all of time.
Synopsis Source: Doctor Who Guide
Broadcast Source: TWIDW
Report from the This Week in Doctor Who Archive:
Friday 28th January 2000:
MPT Maryland
22, 28, 31, 36, 62, 67
http://www.mpt.org/
Late Sat Mid EST The Invasion of Time all 6 eps
This is the saga of the Time Lord who had the shortest ever term as President of his species. A Presidency mired in scandal, conspiracy, and alien invasions. Will absolute power corrupt the Doctor absolutely?