Last updated 02 January 2017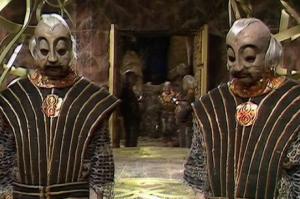 Broadcast: Saturday 22nd August 1998
10:30pm-12:00am PDT
(05:30 GMT)
«
»
KSPS
Featuring: Tom Baker, Ian Marter, Elisabeth Sladen, David Collings, Ronald Leigh-Hunt, Jeremy Wilkin
The Doctor, Sarah and Harry return to Nerva, but at an earlier point in time. The crew are dying and blame a space plague, but the Doctor suspects a survivor may be responsible.
Synopsis Source: Doctor Who Guide
Broadcast Source: TWIDW
Report from the This Week in Doctor Who Archive:
Friday 21st August 1998:
KSPS 7 in Spokane, Washington
customarily airs movie format
Who
Saturday nights at 10:30PM Pacific Time
(11:30PM Mountain for the Alberta, Canada viewers). This week they'll be airing
Revenge of the Cybermen
, the conclusion to the Nerva Chronicles. This 90 minute story will end at Midnight (1AM Mountain) according to the TV listings, but this is pledge season, so you may want to set 30.40 minutes extra on the VCR just in case.