Last updated 02 January 2017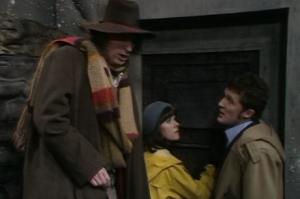 Broadcast: Saturday 15th August 1998
10:30pm-12:50am PDT
(05:30 GMT)
<
>
«
»
KSPS
Featuring: Tom Baker, Ian Marter, Elisabeth Sladen, Peter Miles, Michael Wisher
The Time Lords send the Doctor, Sarah and Harry to Skaro at a point in time shortly before the creation of the Daleks. The Doctor's mission is to destroy his greatest enemy.
Synopsis Source: Doctor Who Guide
---
Broadcast notes:
Running time approximate due to a pledge evening.
Broadcast Source: TWIDW
Report from the This Week in Doctor Who Archive:
Friday 14th August 1998:
KSPS 7 in Spokane, Washington
offers Washington State viewers and some Canadians movie format
Doctor Who
Saturday nights
. This week, they air
Genesis of the Daleks
, presumably with pledge drives. This third segment of "The Nerva Chronicles" begins when the Doctor is intercepted on the way back to Nerva and sent instead to ancient Skaro by the Time Lords. There he is ordered to alter with the past to save the future. The 2 hour, 20 minute + pledge time story is scheduled to begin at
10:30PM Pacific (11:30PM Mountain)
.