Last updated 02 January 2017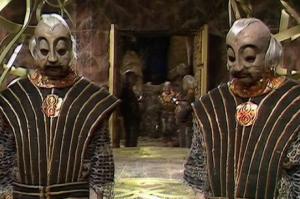 Broadcast: Saturday 22nd May 1999
11:00pm MDT
(05:00 GMT)
«
»
New Mexico PBS
Featuring: Tom Baker, Ian Marter, Elisabeth Sladen, David Collings, Ronald Leigh-Hunt, Jeremy Wilkin
The Doctor, Sarah and Harry return to Nerva, but at an earlier point in time. The crew are dying and blame a space plague, but the Doctor suspects a survivor may be responsible.
Synopsis Source: Doctor Who Guide
Broadcast Source: TWIDW
Report from the This Week in Doctor Who Archive:
Friday 21st May 1999:
KNME 5 Albequerque, NM
http://www.knmetv.org/
Saturday at 11PM MDT Revenge of the Cybermen movie version
[Episodes are airing in production order, not the original broadcast order. Genesis of the Daleks airs next week.]
After a harrowing experience with the Daleks, the Doctor and company return to Nerva to catch up with the TARDIS. They find a station where nearly all the inhabitants have been killed. The survivors think it is a plague, but the Doctor notices a disturbing similarity to the methods of an enemy he thought was long gone.