Last updated 02 January 2017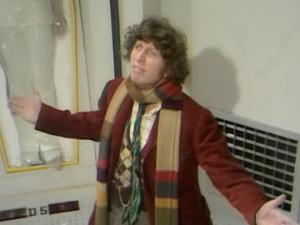 Broadcast: Saturday 15th May 1999
11:00pm MDT
(05:00 GMT)
«
»
New Mexico PBS
Featuring: Tom Baker, Ian Marter, Elisabeth Sladen
The TARDIS arrives in the far future on the Ark space station where mankind's survivors are in hibernation. Sarah is accidentally placed in suspended animation.
Synopsis Source: Doctor Who Guide
Broadcast Source: TWIDW
Report from the This Week in Doctor Who Archive:
Friday 14th May 1999:
KNME 5 Albuquerque, NM
http://www.knmetv.org/
Saturday at 11PM MDT The Ark In Space movie version
The story that goes *before* the one New Mexicans saw last week. The 4th Doctor, Sarah, and Harry arrive on Space Station Nerva, where the last remnants of Earth's civilization sleep away, waiting for the signal to wake up and return to Earth. The signal is thousands of years overdue, and a secret menace threatens to wipe this bastion of humanity out of history.