Last updated 02 January 2017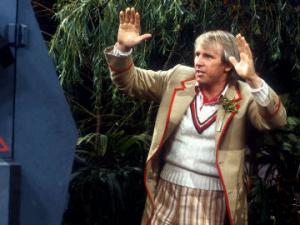 Broadcast: Saturday 22nd August 1998
5:00pm-6:30pm EDT
(21:00 GMT)
<
>
«
»
WUFT
Featuring: Peter Davison, Janet Fielding, Sarah Sutton, Matthew Waterhouse, Nerys Hughes, Simon Rouse, Richard Todd
While Nyssa rests, Adric and the Doctor discover a military expedition on Deva Loka. Tegan falls asleep in the forest watched by the Kinda, but they cannot stop her dreams.
Synopsis Source: Doctor Who Guide
Broadcast Source: TWIDW
Report from the This Week in Doctor Who Archive:
Friday 28th August 1998:
WUFT 5 Gainesville, Florida
is the only station in the country airing Who on
Saturday afternoons
. This week's movie format program is
Kinda
, a 5th Doctor story. While Nyssa rests in the TARDIS to recover from the effects of scriptwriters forgetting to include her in the story, the Doctor, Adric, and Tegan face a force that has the ability to terrorize peoples' minds. This story is generally regarded as great or horrible, depending on who you ask. It will air from
5 to 6:30PM
.