Last updated 02 January 2017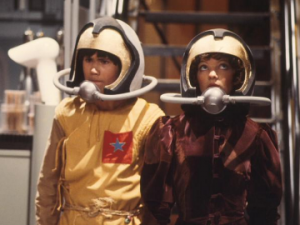 Broadcast: Saturday 15th August 1998
5:00pm-7:00pm EDT
(21:00 GMT)
«
»
WUFT
Featuring: Peter Davison, Janet Fielding, Sarah Sutton, Matthew Waterhouse, Stratford Johns, Annie Lambert, Philip Locke, Paul Shelley
The arrival of the TARDIS is observed by three Urbankans via their manopticon devices. Intrigued, they begin dividing the Doctor's friends, and disguising themselves as humans
Synopsis Source: Doctor Who Guide
This episode was shown during a pledge night.
Broadcast Source: TWIDW
Report from the This Week in Doctor Who Archive:
Friday 14th August 1998:
WUFT 5 in Gainesville, Florida
seems to believe that the best kind of pledge special is regular programming.
Four To Doomsday
, the second 5th Doctor story, airs in movie format
Saturday afternoon at 5PM
. The only difference from normal broadcasts is the 30 minutes of pledging and the 7PM ending time. This was actually the *first* story
Peter Davison
filmed as the Doctor, so you can watch as he seems to develop the 5th Doctor from scratch while the cameras are rolling. By the end, he's actually getting into the part, and you can tell from the increased energy. The other characters do their best to cover Davison early in the story, leading to probably the best Adric / Nyssa / Tegan story of their time together. And there's some frogs that try to rise above their station as well. I'd mention the other major element, but why spoil it for the first time viewers? Hey, keep that cricket ball under control!