Last updated 19 February 2017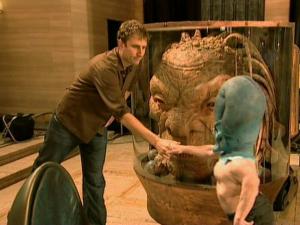 Broadcast: Saturday 21st April 2007
11:45pm-12:00am EDT
(03:45 GMT)
<
>
«
»

<
>
«
»
MPT Maryland
Featuring: Simon Pegg, Colin Baker, Tom Baker, Yasmin Bannerman, Charlie Bluett, Keith Boak, Will Cohen, Russell T Davies, Peter Davison, Christopher Eccleston, Alexander Fort, Euros Lyn, Chris Petts, Elisabeth Sladen
This episode goes behind the scenes of The End Of The World
Simon Pegg narrates a behind-the-scenes look at Doctor Who, following the production team, writers and cast as they bring the Time Lord back to the screen. This episode celebrates the men who have made the monsters, the actors who have been inside the monsters and the doctors who have acted opposite monsters in over 40 years of rubber and robots.
Synopsis Source: Doctor Who Guide
---
Broadcast notes:
Listings disagreed as to whether this episode aired or not.
Broadcast Source: TWIDW
Report from the This Week in Doctor Who Archive:
Wednesday 18th April 2007:
MPT Maryland
http://www.mpt.org
analog 22, 67, 31, 28, 62, 36 digital .2
DC/Hagerstown, Baltimore DirecTV 22,973
Baltimore Dish 22,8736
Saturday 11:45PM EDT DWC 1-02 Aliens

(Zap2it and Tivo believe that this episode of

Doctor Who Confidential

will not air. If you have set a series pass, you will have to use a manual timer anyway.)
Late Saturday Midnight-1:30AM EDT Nightmare of Eden movie
Classic Season 17, Episodes 13 through 16. Doctor:
Tom Baker
.
Late 28 April 12:05AM EDT 1-01 Rose
(Zap2it and Tivo believe that Rose will start at 12:30AM and run for 90 minutes, with Confidential not airing afterwards. Give a few days for them to sort this out, but even if you have a series pass, you may need to set a manual timer. If you have a pass for

Classic Who

, do not assume that it will record the new series.)
Late 28 April 12:49AM EDT DWC 1-01 Bringing Back the Doctor