Last updated 19 February 2017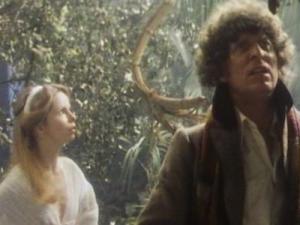 Broadcast: Sunday 15th April 2007
12:00am-1:30am EDT
(04:00 GMT)
<
>
«
»
MPT Maryland
Featuring: Tom Baker, David Brierley, Lalla Ward, Myra Frances, Eileen Way
The Doctor and Romana follow a distress signal to the jungle world of Chloris. The planet is ruled by the ruthless Lady Adrasta who takes the Doctor prisoner.
Synopsis Source: Doctor Who Guide
Broadcast Source: TWIDW
Report from the This Week in Doctor Who Archive:
Wednesday 11th April 2007:
MPT Maryland
http://www.mpt.org
analog 22, 67, 31, 28, 62, 36 digital .2
DC/Hagerstown, Baltimore DirecTV 22,973
Baltimore Dish 22,8736
Saturday 11:45PM,
Late 28 April 12:49AM EDT
DWC 1-01 Back From The Future


Late Saturday Midnight-1:30AM EDT The Creature from the Pit movie
Classic Season 17, Episodes 9 through 12. Doctor:
Tom Baker
.
21 April 11:45PM EDT DWC 1-02 Aliens
Late 21 April Midnight-1:30AM EDT Classic Season 17.04 Nightmare of Eden movie (end of Tom Baker run, for now)
Late 28 April 12:05AM EDT 1-01 Rose