Last updated 19 February 2017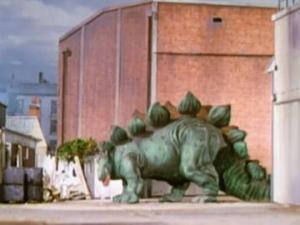 Cancelled

: Sunday 20th March 2005
12:00am-2:00am EST
(05:00 GMT)
<
>
«
»
MPT Maryland
Featuring: Jon Pertwee, Nicholas Courtney, Elisabeth Sladen, Richard Franklin, Martin Jarvis, John Levene, Peter Miles
The Doctor plans to capture a dinosaur so he can discover who is transporting them through time. But Mike Yates is in league with the enemy and is ordered to stop the Doctor.
Synopsis Source: Doctor Who Guide
---
Broadcast notes:
The story was unexpectedly replaced by <span class="programme-title">Rock N Roll Forever: Ed Sullivan's Greatest Hits</span>.
Broadcast Source: TWIDW
Report from the This Week in Doctor Who Archive:
Wednesday 16th March 2005:
MPT Maryland
http://www.mpt.org
analog 22, 67, 31, 28, 62, 36
digital 22-2 (42-2), 67-2 (29-2), 31-2 (44-2), 28-2 (56-2), 62-2 (28-2), 36-2 (54-2)
DC/Hagerstown, Baltimore DirecTV 22,980
Baltimore Dish 22,8736
Late Saturday Midnight-2AM EST Invasion of the Dinosaurs (abridged) movie
Season 11, Episodes 6 through 10. Doctor:
Jon Pertwee
.
This movie version excises episode 1. The Doctor and Sarah help U*N*I*T deal with dinosaurs in Central London, a plot to bring Earth back millions of years through time, and a traitor.
» it was reported that

Rock N Roll Forever: Ed Sullivan's Greatest Hits

aired instead
26 March - Death to the Daleks (11:59PM)