Last updated 19 February 2017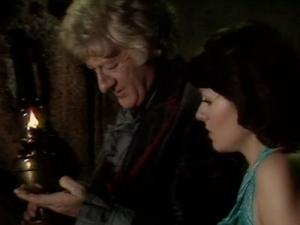 Broadcast: Saturday 26th March 2005
11:59pm-1:35am EST
(04:59 GMT)
<
>
«
»
MPT Maryland
Featuring: Jon Pertwee, Elisabeth Sladen, Julian Fox, Joy Harrison, Duncan Lamont
The TARDIS suffers a power drain and is forced down on the planet Exxilon. Sarah is captured by the primitive inhabitants and the Doctor comes face to face with his oldest enemies.
Synopsis Source: Doctor Who Guide
Broadcast Source: TWIDW
Report from the This Week in Doctor Who Archive:
Wednesday 23rd March 2005:
MPT Maryland
http://www.mpt.org
analog 22, 67, 31, 28, 62, 36
digital 22-2 (42-2), 67-2 (29-2), 31-2 (44-2), 28-2 (56-2), 62-2 (28-2), 36-2 (54-2)
DC/Hagerstown, Baltimore DirecTV 22,980
Baltimore Dish 22,8736
Saturday 11:59PM-1:35AM EST Invasion of the Dinosaurs or Death to the Daleks movie
Season 11, Episodes 6 through 10 or 11 through 14. Doctor:
Jon Pertwee
.
Either the tale of Dinosaurs invading London that was pre-empted last week or a Dalek visit to the planet Exxilon will air, depending on who you believe. Allow extra time if it's Dinosaurs. If it is InvasionOfTheDinosaurs, they will still be skipping the first episode.
» it was Death to the Daleks
2 April - Death to the Daleks or The Monster of Peladon