Last updated 19 February 2017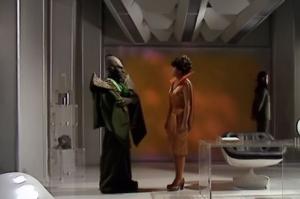 Broadcast: Sunday 27th February 2005
~12:30am-3:00am EST
(~05:30 GMT)
<
>
«
»
MPT Maryland
Featuring: Jon Pertwee, Katy Manning, Vera Fusek, Michael Hawkins
The Doctor and Jo land on a spaceship in the far future as it is attacked by Ogrons, which the human crew see as Draconians. The Doctor and Jo are taken to Earth as spies.
Synopsis Source: Doctor Who Guide
---
Broadcast notes:
Start time approximate owing to pledge evening.
Broadcast Source: TWIDW
Report from the This Week in Doctor Who Archive:
Wednesday 23rd February 2005:
MPT Maryland
http://www.mpt.org
analog 22, 67, 31, 28, 62, 36
digital 22-2 (42-2), 67-2 (29-2), 31-2 (44-2), 28-2 (56-2), 62-2 (28-2), 36-2 (54-2)
DC/Hagerstown, Baltimore DirecTV 22,980
Baltimore Dish 22,8736
Late Saturday 12:30-3AM EST Frontier In Space movie
Series 10, Episodes 9 through 14. Doctor:
Jon Pertwee
.
Start time approximate after pledge drives. Unlikely to have any pledge drives during the show.
The 3rd Doctor and Jo find themselves accused of being a spy by both sides of an intergalactic war that is just begging to get loose and slaughter people. Can the Doctor convince everyone that the Ogrons are the aggressors and find the mastermind behind it all before the frontier becomes a war zone? And what shocking cliffhanger will you never see the end of because the next story will be skipped? Stay up late this Saturday and find out!
5 March - The Green Death (12:30AM)
12 March - The Time Warrior
19 March - Invasion of the Dinosaurs
26 March - Death to the Daleks