Last updated 19 February 2017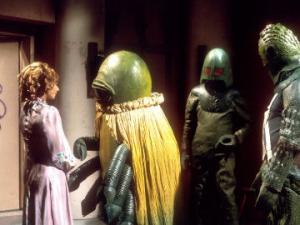 Broadcast: Sunday 16th January 2005
12:00am-1:35am EST
(05:00 GMT)
<
>
«
»
MPT Maryland
Featuring: Jon Pertwee, Katy Manning, Henry Gilbert, Geoffrey Toone, David Troughton
The planet Peladon is hoping to join the Galactic Federation. But King Peladon's Chancellor has been murdered and it seems that the legendary royal beast, Aggedor, is to blame.
Synopsis Source: Doctor Who Guide
Broadcast Source: TWIDW
Report from the This Week in Doctor Who Archive:
Wednesday 12th January 2005:
MPT Maryland
http://www.mpt.org
analog 22, 67, 31, 28, 62, 36
digital 22-2 (42-2), 67-2 (29-2), 31-2 (44-2), 28-2 (56-2), 62-2 (28-2), 36-2 (54-2)
DC/Hagerstown, Baltimore DirecTV 22,980
Baltimore Dish 22,8736
Late Saturday Midnight-1:35AM EST The Curse of Peladon movie
Series 9, Episodes 5 through 8. Doctor:
Jon Pertwee
.
The Time Lords send the 3rd Doctor and Jo to Peladon, a world on the verge of an industrial revolution, trying to decide whether to join an intergalactic alliance. Among the members of the alliance - Humans and Ice Warriors.
22 January - The Sea Devils movie
29 January - The Mutants movie