Last updated 19 February 2017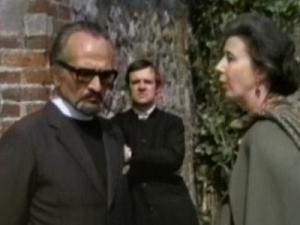 Broadcast: Sunday 9th January 2005
12:00am-2:00am EST
(05:00 GMT)
<
>
«
»
MPT Maryland
Featuring: Jon Pertwee, Nicholas Courtney, Katy Manning, Roger Delgado, Richard Franklin, Damaris Hayman, John Levene
The Doctor tries to prevent Professor Horner from breaking into an ancient barrow near the village of Devil's End. Posing as the village vicar, the Master summons dark forces.
Synopsis Source: Doctor Who Guide
Broadcast Source: TWIDW
Report from the This Week in Doctor Who Archive:
Wednesday 5th January 2005:
MPT Maryland
http://www.mpt.org
analog 22, 67, 31, 28, 62, 36
digital 22-2 (42-2), 67-2 (29-2), 31-2 (44-2), 28-2 (56-2), 62-2 (28-2), 54
DC/Hagerstown, Baltimore DirecTV 22,980
Baltimore Dish 22,8736
Late Saturday Midnight-2AM EST The Dæmons movie
Series 8, Episodes 21 through 25. Doctor:
Jon Pertwee
.
The 3rd Doctor and Jo intervene when an excavation at Devil's End unleashes an ancient power and the greed of the Master.
MPT typically airs the black & white version of this story, even though a color-restored version has been offered to stations since 1998 and MPT airs Silurians and Terror of the Autons in color.
15 January - The Curse of Peladon movie
22 January - The Sea Devils movie
29 January - The Mutants movie