Last updated 13 January 2017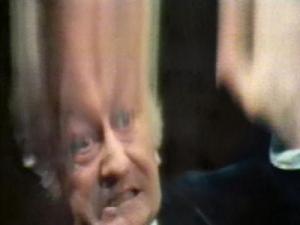 Broadcast: Sunday 29th January 1989
11:00pm-12:12am CST
(05:00 GMT)
<
>
«
»
WTTW 11 Chicago
Featuring: Jon Pertwee, Nicholas Courtney, Caroline John, Christopher Benjamin, John Levene, Derek Newark, Olaf Pooley
UNIT are at a project run by Professor Stahlman who plans to penetrate Earth's crust. But the drilling has already released something deadly from beneath the planet's surface.
Synopsis Source: Doctor Who Guide
---
Broadcast notes:
WTTW split the story into two, with the break made during episode four when the alternative Stahlmann clutches his head in pain after threatening Sutton. [source: ChicagoEpguides]
Intro: Seeking a new power source from deep within the Earth, scientists release an unforeseen horror that threatens to explode the planet. Enter The Doctor. But is he too late? Tonight, the awful result of Project "Inferno."
Outro: If these are The Doctor's friends, he doesn't need enemies. Will he be able to save the parallel world from destruction? Be with us next Sunday evening at 11 for the conclusion of "Inferno." [source: ChicagoEpguides]
Broadcast Source: BroaDWcast