Last updated 13 January 2017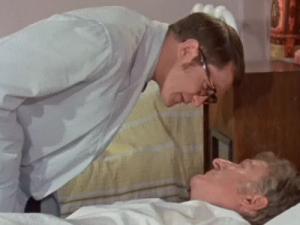 Broadcast: Sunday 22nd January 1989
11:00pm-12:31am CST
(05:00 GMT)
<
>
«
»
WTTW 11 Chicago
Featuring: Jon Pertwee, Nicholas Courtney, Caroline John, Hugh Burden
The TARDIS takes the newly regenerated Doctor to Earth to begin his exile. Brigadier Lethbridge-Stewart leads a UNIT investigation into a mysterious meteorite shower.
Synopsis Source: Doctor Who Guide
---
Broadcast notes:
Intro: Until Sylvester McCoy returns on March the 5th, we travel back in time to The Doctor's third regeneration [sic] and the first appearance of Jon Pertwee. He is joined by Liz Shaw and The Brigadier and Bessie in "Spearhead from Space."
Outro: Next week, a crisis develops on a top secret drilling project which hopes to penetrate the Earth's crust and release a new energy source. Join us next Sunday at 11 when The Doctor does his best to prevent the release of the full force of the "Inferno." [source: ChicagoEpguides]
Broadcast Source: BroaDWcast