Last updated 12 January 2017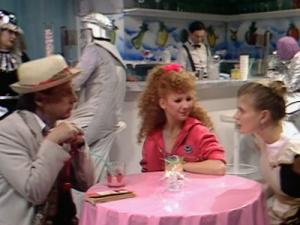 Broadcast: Sunday 15th January 1989
11:00pm-12:08am CST
(05:00 GMT)
<
>
«
»

<
>
«
»
WTTW 11 Chicago
Featuring: Sylvester McCoy, Sophie Aldred, Bonnie Langford, Edward Peel, Patricia Quinn, Tony Selby
On Iceworld, the Doctor and Mel meet Ace, who has found herself there after a timestorm. While Ace nearly joins Kane's mercenaries, the Doctor and Glitz explore the ice caverns.
Synopsis Source: Doctor Who Guide
---
Broadcast notes:
Intro: Here is an announcement of intergalactic consequence for all followers of The Doctor. For reasons beyond our control (could it be the work of The Master?), only four Sylvester McCoy programs are available in the United States. And tonight's presentation is the fourth of them. We are reliably informed that the remainder will be available to us, and of course to you, starting March 5th. Until then you'll be watching Jon Pertwee as The Doctor starting next week with "Spearhead from Space." But tonight here is our last Sylvester McCoy adventure until March 5th, "Dragonfire."
Outro: For those followers of The Doctor who could not give us their complete attention at the beginning of this program, we repeat that tonight's adventure was the last of the four Sylvester McCoy episodes presently available in this country. We have been assured the remainder will be available for broadcast beginning March 5th. In the interim we'll be presenting landmark episodes of Doctor Who. Next week, we go back to the very beginning for William Hartnell in "An Unearthly Child." [source: ChicagoEpguides]
Broadcast Source: BroaDWcast