Last updated 12 January 2017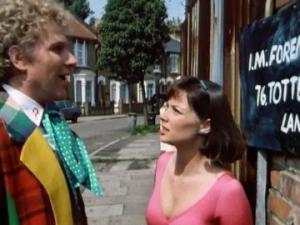 Broadcast: Sunday 9th October 1988
11:00pm-12:26am CDT
(04:00 GMT)
<
>
«
»
WTTW 11 Chicago
Featuring: Colin Baker, Nicola Bryant, David Banks, Maurice Colbourne, Brian Glover, Michael Kilgarriff
The Cybermen are hiding in the London sewers and turning humans into cybernetic slaves. On Telos, two slaves make a bid of freedom and find a way to escape the planet for good.
Synopsis Source: Doctor Who Guide
---
Broadcast notes:
Intro: The Cybermen are in trouble, beaten off Telos by the Cryons. Where to go? Well, Earth would be nice, but that would mean changing history. Can they do it? The answer will follow in The "Attack of the Cybermen."
Outro: Next week, The Doctor stars in a video nasty on the planet Varos. Considering that the stars of the nasties often die, it would seem the Time Lord might have a problem. We'll learn if he escapes "Vengeance on Varos," next Sunday evening at 11. [source: ChicagoEpguides]
Broadcast Source: BroaDWcast