Last updated 12 January 2017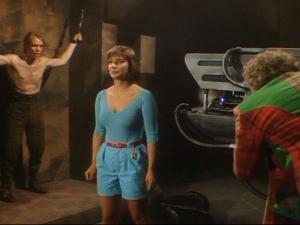 Broadcast: Sunday 16th October 1988
11:00pm-12:27am CDT
(04:00 GMT)
<
>
«
»
WTTW 11 Chicago
Featuring: Colin Baker, Nicola Bryant, Forbes Collins, Jason Connery, Martin Jarvis, Nabil Shaban
Needing Zeiton 7 ore urgently for the TARDIS, the Doctor takes Peri to Varos. They quickly become part of the sadistic programming that entertains the populace.
Synopsis Source: Doctor Who Guide
---
Broadcast notes:
Intro: On the planet Varos slaves are kept mollified by watching video nasties. What are they? We will soon know. And The Doctor will learn what it's like to perform in one as well as the quality of "Vengeance on Varos."
Outro: Is she the mistress of a local bathhouse or is she a notorious Time Lady? The Doctor will search for the answer as well as who is seeking to retard the development of the Earth when we discover "The Mark of Rani [sic]," next Sunday night at 11. [source: ChicagoEpguides]
Broadcast Source: BroaDWcast