Last updated 12 January 2017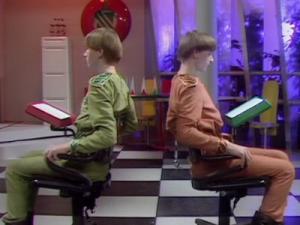 Broadcast: Sunday 2nd October 1988
11:00pm-12:33am CDT
(04:00 GMT)
<
>
«
»
WTTW 11 Chicago
Featuring: Colin Baker, Nicola Bryant, Maurice Denham, Kevin McNally
The mysterious Professor Edgeworth has kidnapped twin human child genii, Romulus and Remus, and Hugo Lang holds the new Doctor responsible for the destruction of his spaceship.
Synopsis Source: Doctor Who Guide
---
Broadcast notes:
Intro: As sometimes happens, the regeneration has not gone well and The Doctor decides to retreat to the planet of Titan 3 until he can work things out. Unfortunately "The Twin Dilemma" will follow him there.
Outro: Next week, The Doctor and Peri investigate an intergalactic distress call and meet an old nemesis. Be with us next Sunday night at 11 and witness the "Attack of the Cybermen." [source: ChicagoEpguides]
Broadcast Source: BroaDWcast