Last updated 12 January 2017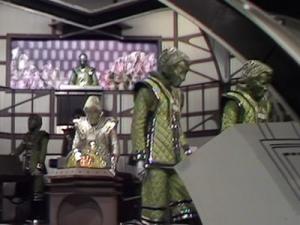 Broadcast: Sunday 1st November 1987
11:00pm-12:30am CST
(05:00 GMT)
<
>
«
»
WTTW 11 Chicago
Featuring: Tom Baker, Louise Jameson, David Collings, Russell Hunter, Pamela Salem
The TARDIS takes the Doctor and Leela to a huge sandminer on an alien world. One of the crew is killed and the murderer may not be human.
Synopsis Source: Doctor Who Guide
---
Broadcast notes:
Intro: Can The Doctor dissuade Leela from thinking that any unusual occurrence is caused by magic? Can he persuade her to give up her crossbow? More to the point, can his knowledge and her intuition overcome the challenge that faces them: "The Robots of Death"? Maybe.
Outro: Next week, in Victorian London, The Doctor finds himself embroiled with a Tong of the Black Scorpion. Be with us next Sunday night at 11 for "The Talons of Weng Chiang." [source: ChicagoEpguides]
Broadcast Source: BroaDWcast