Last updated 12 January 2017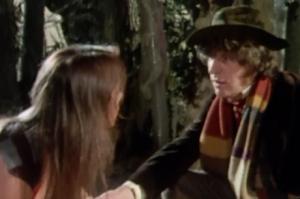 Broadcast: Sunday 25th October 1987
11:00pm-12:34am CST
(05:00 GMT)
<
>
«
»
WTTW 11 Chicago
Featuring: Tom Baker, Louise Jameson, Brendan Price
The Doctor arrives on an alien world and is taken captive by the savage Sevateem tribe. Accused of being 'the evil one', the Doctor begins to suspect that he has been here before.
Synopsis Source: Doctor Who Guide
---
Broadcast notes:
Intro: Tonight, The Doctor confronts a supreme instrument of destruction and finds something vaguely familiar about it, or would that be understating the case? Judge for yourself. Prepare to gaze upon "The Face of Evil."
Outro: Next week, The Doctor travels to a distant planet to do battle with a mad scientist who plans to rule through the strength of the mechanical minions he has created. They are "The Robots of Death." [source: ChicagoEpguides]
Broadcast Source: BroaDWcast