Last updated 12 January 2017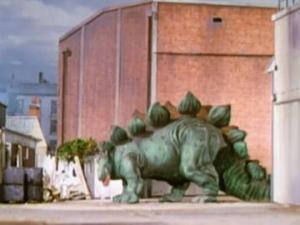 Broadcast: Sunday 24th May 1987
11:00pm-12:55am CDT
(04:00 GMT)
<
>
«
»

<
>
«
»
WTTW 11 Chicago
Featuring: Jon Pertwee, Nicholas Courtney, Elisabeth Sladen, Richard Franklin, Martin Jarvis, John Levene, Peter Miles
The Doctor plans to capture a dinosaur so he can discover who is transporting them through time. But Mike Yates is in league with the enemy and is ordered to stop the Doctor.
Synopsis Source: Doctor Who Guide
Episode one wasn't shown owing to it being in black and white.
Intro: The Doctor and Sarah return to London to find it under martial law, and deserted. The cause soon becomes apparent. And the title of tonight's adventure gives the game away: "Invasion of the Dinosaurs."
Outro: Next week, a space plague strikes all creatures in the galaxy and The Doctor is confronted by an old nemesis. Be with us next Sunday evening at 11 and join the cry "Death to the Daleks." [source: ChicagoEpguides]
Broadcast Source: BroaDWcast