Last updated 12 January 2017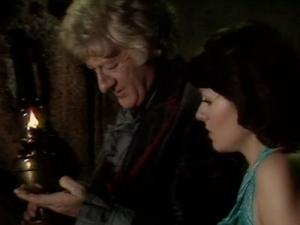 Broadcast: Sunday 31st May 1987
11:00pm-12:33am CDT
(04:00 GMT)
<
>
«
»
WTTW 11 Chicago
Featuring: Jon Pertwee, Elisabeth Sladen, Julian Fox, Joy Harrison, Duncan Lamont
The TARDIS suffers a power drain and is forced down on the planet Exxilon. Sarah is captured by the primitive inhabitants and the Doctor comes face to face with his oldest enemies.
Synopsis Source: Doctor Who Guide
---
Broadcast notes:
Intro: The antidote for a plague affecting the entire galaxy can be found only on the planet Exxilon, home of a savagely hostile and degenerate race. When The Doctor gets there he will find, as he usually does, more than he bargained for.
Outro: Next week, The Doctor returns to Peladon after a fifty year absence and finds the sacred monster is kicking up a fuss. The manifestations are manifold as we will learn next Sunday night at 11 when we meet "The Monster of Peladon." [source: ChicagoEpguides]
Broadcast Source: BroaDWcast