Last updated 12 January 2017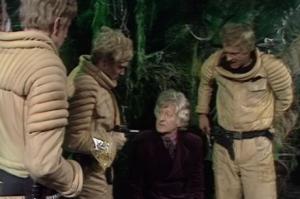 Broadcast: Sunday 26th April 1987
11:00pm-12:45am CDT
(04:00 GMT)
<
>
«
»

<
>
«
»
WTTW 11 Chicago
Featuring: Jon Pertwee, Katy Manning, Prentis Hancock, Bernard Horsfall
Injured by the Orgrons, the Doctor asks the Time Lords to send the TARDIS after the Daleks. Leaving him to sleep and recuperate, Jo goes to explore the planet Spirodon.
Synopsis Source: Doctor Who Guide
---
Broadcast notes:
Episode three was omitted owing to it being black and white.
Intro: Pursuing the Daleks, The Doctor has landed on the planet Spiridon. He has not yet recovered from his wounds and Jo, not understanding his recuperative powers, sets out to find help. We shall soon know what she finds on the "Planet of the Daleks."
Outro: Next week, the villagers of Llanfairfach in Wales are delighted when Global Chemicals receives a government grant to build a refinery. Their elation will be short-lived as we will learn next Sunday evening at 11 when The Doctor and Jo confront "The Green Death." [source: ChicagoEpguides]
Broadcast Source: BroaDWcast