Last updated 12 January 2017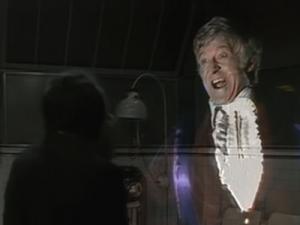 Broadcast: Sunday 28th December 1986
11:00pm CST
(05:00 GMT)
<
>
«
»
WTTW 11 Chicago
Featuring: Jon Pertwee, Nicholas Courtney, Katy Manning, Roger Delgado, Richard Franklin, John Levene, Michael Sheard
The mind parasite within the Keller Machine becomes too powerful for the Master to control. It learns how to move of its own accord and goes on the hunt for new minds.
Synopsis Source: Doctor Who Guide
---
Broadcast notes:
Broadcast in black and white.
Intro: The Doctor and his most brilliant adversary confront each other once again with the future of the Earth riding on the outcome which we will know in due time in the conclusion of "Mind of Evil."
Outro: Three days ago we said goodbye for a year to Santa Claus. Next week, we say hello for the night to Axos Claus. Be with us next Sunday night at 11 when The Doctor confronts "The Claws of Axos." [source: ChicagoEpguides]
Broadcast Source: BroaDWcast