Last updated 12 January 2017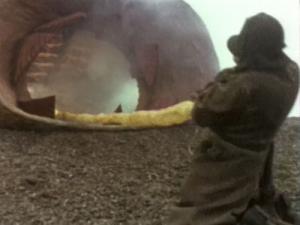 Broadcast: Sunday 4th January 1987
11:00pm-12:31am CST
(05:00 GMT)
<
>
«
»
WTTW 11 Chicago
Featuring: Jon Pertwee, Nicholas Courtney, Katy Manning, Roger Delgado, Richard Franklin, Paul Grist, John Levene
Axos lands on Earth. The Axons ask only to be allowed to repair their damaged ship and offer the gift of the miraculous Axonite in return. But the Axons aren't all that they seem.
Synopsis Source: Doctor Who Guide
---
Broadcast notes:
Intro: They are beautiful creatures. As a wise being once observed, "Beware of humanoids bearing Axonite." The Doctor will soon discover the importance of that maxim. Will it be soon enough to defend the Earth from "The Claws of Axos"?
Outro: Next week, The Doctor and Jo are dispatched to an Earth-like planet in the year 2471 and "The Colony in Space." [source: ChicagoEpguides]
Broadcast Source: BroaDWcast