Last updated 12 January 2017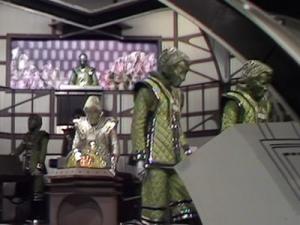 Broadcast: Sunday 22nd September 1985
11:00pm-12:30am CDT
(04:00 GMT)
<
>
«
»
WTTW 11 Chicago
Featuring: Tom Baker, Louise Jameson, David Collings, Russell Hunter, Pamela Salem
The TARDIS takes the Doctor and Leela to a huge sandminer on an alien world. One of the crew is killed and the murderer may not be human.
Synopsis Source: Doctor Who Guide
---
Broadcast notes:
Intro: The Doctor has finally convinced Leela to stop carrying her crossbow. Perhaps he was a bit premature: every little bit helps when one is dealing with a mad scientist, heading an army of automata. Naturally, he is bent on ruling the world with the help of his "Robots of Death."
Outro: Next week, The Doctor and Leela travel to another exotic landscape, Victorian London, where he'll meet some exotic fauna, a black scorpion, and a ten-foot rat. And there's more as you'll discover when you join us next Sunday evening at 11 for "The Talons of Weng-Chiang." [source: ChicagoEpguides]
Broadcast Source: BroaDWcast