Last updated 12 January 2017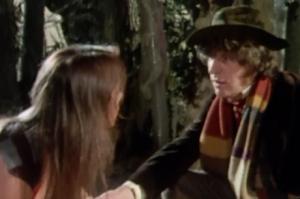 Broadcast: Sunday 15th September 1985
11:00pm-12:34am CDT
(04:00 GMT)
<
>
«
»
WTTW 11 Chicago
Featuring: Tom Baker, Louise Jameson, Brendan Price
The Doctor arrives on an alien world and is taken captive by the savage Sevateem tribe. Accused of being 'the evil one', the Doctor begins to suspect that he has been here before.
Synopsis Source: Doctor Who Guide
---
Broadcast notes:
Intro: Those familiar with the term deux ex machina will find a perfect representation in tonight's adventure. Those unfamiliar will just have to be patient as The Doctor confronts a familiar face: "The Face of Evil."
Outro: Next week, The Doctor manages to discourage Leela from thinking that every unusual occurrence is caused by magic, and she becomes civil enough to be retained as his new traveling companion. Watch the Time Lord's technique next Sunday at 11 when we meet "The Robots of Death." [source: ChicagoEpguides]
Broadcast Source: BroaDWcast