Last updated 12 January 2017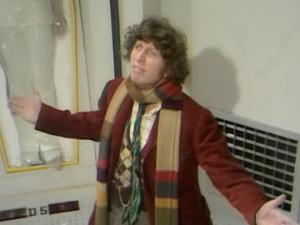 Broadcast: Sunday 2nd June 1985
11:00pm-12:33am CDT
(04:00 GMT)
<
>
«
»
WTTW 11 Chicago
Featuring: Tom Baker, Ian Marter, Elisabeth Sladen
The TARDIS arrives in the far future on the Ark space station where mankind's survivors are in hibernation. Sarah is accidentally placed in suspended animation.
Synopsis Source: Doctor Who Guide
Intro: After years spent as popsicles, the last survivors of Earth are approaching meltdown day when they are threatened by a band of out-sized picnic pests. Oh well, nobody ever said that life was fair. Join the Doctor and Sarah now as we journey to "The Ark in Space."
Outro: With the wicked, whopper wasps dispatched, nothing blocks the Earthlings' return to begin repopulating their planet, or so they believe. They will learn differently next Sunday night at 11 when we embark on "The Sontaran Experiment." [source: ChicagoEpguides]
Broadcast Source: BroaDWcast