Last updated 12 January 2017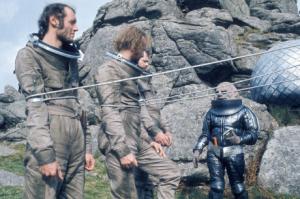 Broadcast: Sunday 9th June 1985
11:00pm-11:48pm CDT
(04:00 GMT)
«
»
WTTW 11 Chicago
Featuring: Tom Baker, Ian Marter, Elisabeth Sladen, Kevin Lindsay
The Doctor, Harry and Sarah find Earth is a desolate wilderness. They meet a group of stranded human colonists who are being hunted by a robot and experimented upon by its master.
Synopsis Source: Doctor Who Guide
Intro: The inhabitants of The Ark in Space are ready to return to planet Earth. But there is a problem with the transmat system and the 36-month warranty has expired. Nothing daunted, The Doctor, Harry and Sarah set out to put things aright. There will follow "The Sontaran Experiment."
Outro: Next week, the Time Lords send The Doctor to Skaro on one of the most important mission of his regeneration. He must try to prevent the birth of an horrendous race. Be with us next Sunday at 11 for the "Genesis of the Daleks." [source: ChicagoEpguides]
Broadcast Source: BroaDWcast