Last updated 12 January 2017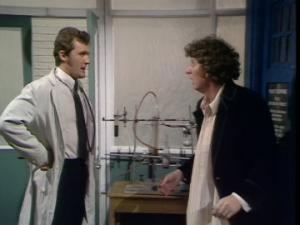 Broadcast: Sunday 26th May 1985
11:00pm-12:30am CDT
(04:00 GMT)
«
»
WTTW 11 Chicago
Featuring: Tom Baker, Nicholas Courtney, Ian Marter, Elisabeth Sladen, Patricia Maynard
UNIT are called in when top secret plans and valuable equipment is stolen from high security establishments. The newly regenerated Doctor suggests that the thief may not be human.
Synopsis Source: Doctor Who Guide
Intro: A regeneration, the beginning of a new Time Lord epoch. And yet, as the French say, "Plus ca change, plus c'est la meme chose:" The more the change, the more it is the same thing. A great, Earth-shattering problem awaits, and it will become greater.
Outro: We have but scratched the surface of the science of cryogenics. Many years in the future it will be far better known, and used. But even with the benefit of greater knowledge things can go wrong, and will, on "The Ark in Space." Next Sunday night at 11. [source: ChicagoEpguides]
Broadcast Source: BroaDWcast