Last updated 11 January 2017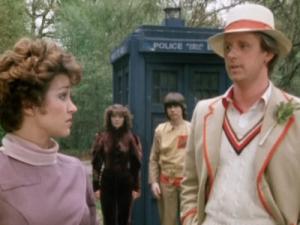 Broadcast: Sunday 28th October 1984
11:00pm-12:29am CST
(05:00 GMT)
<
>
«
»
WTTW 11 Chicago
Featuring: Peter Davison, Janet Fielding, Sarah Sutton, Matthew Waterhouse, Michael Robbins
The TARDIS lands in 17th century England which is being stalked by a robotic death-like figure. The locals seem to be under a strange mesmeric spell.
Synopsis Source: Doctor Who Guide
---
Broadcast notes:
Intro: Tonight's adventure might be characterized as Henry VIII with monsters as The Doctor, Tegan and Nyssa guide the TARDIS to 17th century England and find that era is not immune to danger from another planet. You might say that "The Visitation" is the worst of both worlds.
Outro: The Doctor and his comrades had such a splendid time in England that they will be loathe to leave. Next week, the only traveling the TARDIS will do is through time, moving ahead to the England of 1925, where, among other delights, they will attend a fancy dress ball. Doesn't that sound smashing? Be with us next Sunday evening at 11 and discover the "Black Orchid." [source: ChicagoEpguides]
Broadcast Source: BroaDWcast