Last updated 11 January 2017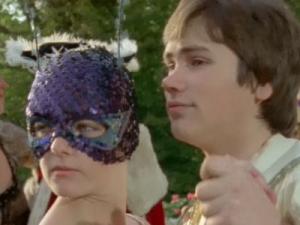 Broadcast: Sunday 4th November 1984
11:00pm-11:47pm CST
(05:00 GMT)
<
>
«
»
WTTW 11 Chicago
Featuring: Peter Davison, Janet Fielding, Sarah Sutton, Matthew Waterhouse, Michael Cochrane, Gareth Milner, Barbara Murray, Sarah Sutton, Moray Watson
A murder is committed in Cranleigh Hall. The Cranleighs ask the Doctor to play cricket and then join them for a masked ball, enabling the killer to hide in plain sight.
Synopsis Source: Doctor Who Guide
---
Broadcast notes:
Intro: Everyone, it is said, has a double, or has had one in somewhere in time. Nyssa will discover the accuracy of that statement and The Doctor will get to cavort in a clown suit for a while. But, as you have no doubt inferred, all will not be fun and games in discovering the secret of the "Black Orchid."
Outro: Next week, we travel to the 25th century when Buck Rogers flourished. The Doctor and friends will not encounter old Buck. They will, however, come across some old acquaintances. If you're curious, be with us next Sunday at 11 and experience "Earthshock." [source: ChicagoEpguides]
Broadcast Source: BroaDWcast