Last updated 02 January 2017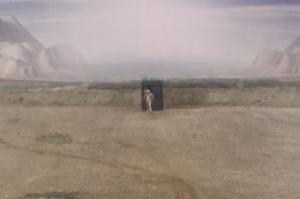 Broadcast: Sunday 18th May 2003
12:00am EDT
(04:00 GMT)
<
>
«
»
MPT Maryland
Featuring: Peter Davison, Nicola Bryant, Christopher Gable, Robert Glenister, John Normington, Maurice Roëves
Gunrunners on Androzani Minor are supplying the unhinged android-builder, Sharez Jek, with munitions to help his plot to return to power. But not everyone is happy about that…
Synopsis Source: Doctor Who Guide
Broadcast Source: TWIDW
Report from the This Week in Doctor Who Archive:
Wednesday 14th May 2003:
MPT Maryland
http://www.mpt.org
analog 22,67,28,31,62,36
digital 42,
(29),(62),(44),(28),(56)
- don't know yet if MPT's stations got
an extension
DC/Hagerstown & Baltimore DirecTV Local 22,980
Late Sat Mid EDT The Caves of Androzani movie
Time approximate after Independent Eye. The 5th Doctor and Peri face death and betrayal from all sides. The military is corrupt. The President is more corrupt. The androids are looney. And Sharaz Jek makes the androids look like the Princes of Calmness. Spectrox is to blame. Spectrox could kill them all. The Doctor's celery dies in this story.