Last updated 02 January 2017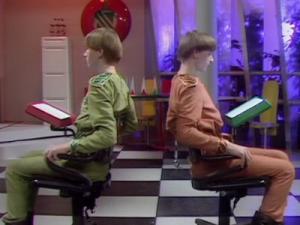 Broadcast: Sunday 25th May 2003
12:00am EDT
(04:00 GMT)
<
>
«
»
MPT Maryland
Featuring: Colin Baker, Nicola Bryant, Maurice Denham, Kevin McNally
The mysterious Professor Edgeworth has kidnapped twin human child genii, Romulus and Remus, and Hugo Lang holds the new Doctor responsible for the destruction of his spaceship.
Synopsis Source: Doctor Who Guide
Broadcast Source: TWIDW
Report from the This Week in Doctor Who Archive:
Thursday 22nd May 2003:
MPT Maryland
http://www.mpt.org
analog 22,67,28,31,62,36
digital 42,
(29),(62),(44),(28),(56)
- simulcast of analog begins in 2003?
DC/Hagerstown & Baltimore DirecTV Local 22,980
Late Sat Mid EDT The Twin Dilemma movie
Time approximate after
Independent Eye
. The Doctor's poison-induced regeneration goes about as well as one could expect a poison-induced regeneration to go. Insanity. The new 6th Doctor struggles to pull himself together so his first adventure won't be his last. I've never been a fan or seen the point to the main plot in this story (the twins), but think of it like
Star Trek: The Next Generation
, where the focus is on the lead characters instead of the actual plot. In this case, if you focus on that, it works quite well. Better than it frequently worked on
Star Trek: The Next Generation
.