Last updated 01 February 2017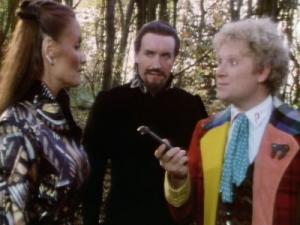 Broadcast: Saturday 5th July 2003
11:00pm-11:25pm EDT
(03:00 GMT)
<
>
«
»
WCET
Featuring: Colin Baker, Nicola Bryant, Anthony Ainley, Terence Alexander, Kate O'Mara
George Stephenson and Luke Ward do their best to help the Doctor and Peri, but the Rani has other traps for the unwary, including the ability to turn people into trees
Synopsis Source: Doctor Who Guide
Broadcast Source: TWiDW
Report from the This Week in Doctor Who Archive:
Wednesday 9th July 2003:
WCET Cincinnati, OH
http://www.wcet.org
analog 48
digital 34-2
Cincinnati DirecTV Local 48,909
Cincinnati Dish Local 48,8356
Sat 11PM EDT The Mark of the Rani 4 pt version, pts 3+4
The Rani plots to drain the fluid from human miners in the 19th Century. Fortunately, the 6th Doctor and Peri are around to try to stop her. Unfortunately, the Master is out for vengeance and getting in everyone's way.